Finally my partner in crime in my blogging adventure i.e. my dear wife is back after spending 3 months back home in India and I for sure couldn't be any more happier. What made me all the more happier is seeing all the goodies that she got back from India, especially the spices and a couple of other rare ingredients that are difficult to find here. I could barely contain my excitement at getting my hands on these and my first recipe turned out to be this finger-lickingly delicious "CASHEW CHICKEN MASALA".
My family as well as Maddy's family hail from coastal towns in western India in the state of Maharashtra. This is a large coastal belt overlapping two states and is locally called as the Konkan coast. As can be expected from such a large area there are going to be distinct cooking styles but to me the Malvani style of food is considered the standard bearer of the Konkan cuisine. Malvan is an area in the south Konkani region of Maharashtra and is actually where my Maddy's family hails from. So like a good husband I am a little biased to their style of food (CHUCKLES!!!). After all a HAPPY WIFE EQUALS HAPPY LIFE.. RIGHT GUYS.
On a more serious note even a neutral observer is going to become a fan once he/she tastes this food. It is usually characterized by two things; the liberal use of coconut in a variety of forms and the distinct masalas/spice blends commonly known as Malvani Masalas. It is this blend that is responsible for the flavor as well as the spiciness in the curries that dominate this cuisine. Finally I had what I consider the real homemade Malvani Masala and not some crazy store bought ripoff. Being a coastal town it is not going to surprise anyone when I say that the most popular curries in this cuisine are going to have meat OR seafood. 
My original plan was pretty much the same i.e. a typical but a very flavorful and sizzling hot Chicken Curry. So I start marinating my chicken with a little bit of turmeric, red chilli powder, ginger-garlic paste and of course the Malvani Masala and keep it in the fridge. Here's the twist in the story!! When I opened the fridge my eyes fell on a box of TENDER CASHEWS OR wet cashews as they are locally called. This is another popular delicacy in these parts which has its own distinct taste and is used in a variety of preparations. I decided to use this as a crunchy element in my dish and changed from a curry to a MASALA/a gravy enough to just coat the chicken and the cashews.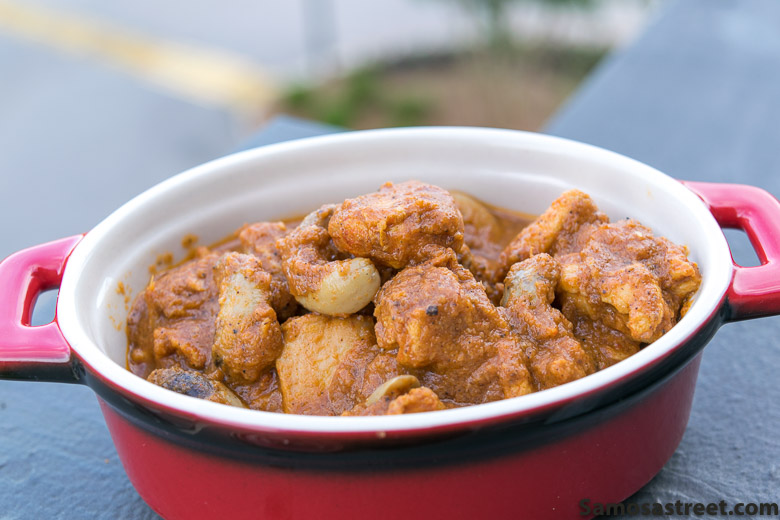 TIP: If y'all do not have tender cashews just soak the regular cashews overnight in water and use them.
Now that the chicken was marinating it was time to make my masala. I am firm believer in roasting ingredients when I make masalas like this. So I pretty much roasted every ingredient in the masala before blending them into a paste.
It is time for my dish to come together. So simply add the above paste, cashews and the marinated chicken into a pan and cook for 15 minutes. I used a little bit of water to help cook the chicken but overall I kept the gravy consistency very thick. In addition I added tomato puree, ginger-garlic paste and more Malvani Masala for a little more oomph in my dish.. (MAN I SO WANTED TO USE THAT WORD!!! LAUGHS!!!).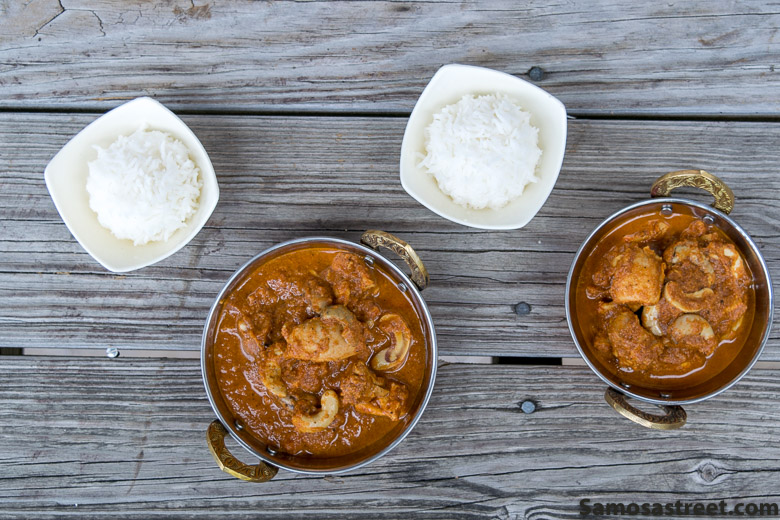 This Cashew Chicken Masala might bring a little sweat on your brow and a few tears in your eyes but your heart is going to be pleased having eaten a sumptuous meal..
If you are on Facebook I would love it if you like my FACEBOOK page.
Cashew Chicken Masala
This Cashew Chicken Masala might bring a little sweat on your brow and a few tears in your eyes but your heart is going to be pleased having eaten a sumptuous meal.
Ingredients
FOR MARINATION:
¾ lbs Chicken (cut into small pieces)
¼ tsp Turmeric
½ tsp Red Chilli Powder
¾ tsp Ginger-Garlic Paste
¾ tsp Malvani Masala (OR Garam Masala)
TO GRIND TO A PASTE
1 Onion (coarsely chopped)
¾ cup Grated Coconut
10 Cloves
1 tsp Coriander Seeds
¾ tsp Peppercorns
ADDITIONAL INGREDIENTS
1 cup of Tender Cashews (If you don't have them soak the regular cashews in water overnight)
1 cup Tomato Puree
1 tsp Malvani Masala
1 tsp Ginger-Garlic Paste
Instructions
Marinate the chicken with all the ingredients mentioned above under marination for 45 minutes-1 hour.
Dry roast the cloves, coriander seeds and peppercorns individually until fragrant and keep aside.
Add a little oil to a pan and then roast the onions as well as the coconut till golden brown.
Blend the dry spices as well as the coconut-onion mixture into a fine paste using a little water.
Heat oil in a saucepan on medium heat. Once the oil is hot, add the ginger-garlic paste and cook till the raw smell vanishes.
Then add the paste from step 4 and saute for 2-3 minutes. Mix in the tomato puree and stir for 3-4 minutes.
Finally add the marinated chicken, tender cashews and Malvani Masala if you like a little extra heat. Cover and cook for 15 minutes or till the chicken is fully cooked. Season with salt.
Serve hot.
Notes
1. If y'all do not have tender cashews simply soak the regular cashews in water overnight.
2. The malwani masala can be replace by garam masala.
3. I kept the gravy consistency very think but y'all can add more water and make a curry instead.
Please follow and like us: