Lately I have observed an interesting phenomenon here in this tiny city of Alabama and that is the occurrence of a bunch of festivals celebrating different cultures of this world. There have been a bunch of Greek festivals, a Middle eastern festival and most recently a Brazilian festival. I can say all the food on display was a pretty good source of inspiration for my next recipe. But me being me I looked to Canada for ideas and came up with "Butter Chicken Fries"; my delicious take on one of their most popular recipes "Poutine".
If you come to Birmingham with a preconceived notion that this is a sleepy city of people with laid-back attitudes then I must say that y'all couldn't be more wrong. Trust me this is a rapidly developing city in every way, shape and form. There is a major redevelopment process underway with booming new businesses, new buildings and condos sprouting up left and right, cool spots to hangout, and most importantly for people like me there're are a host of restaurants serving great food.
Another cool thing that happens especially this month is that there seems to be a festival happening pretty much every weekend. I was simply amazed to see the number of people that turned out at one of the Greek festivals that happened near my place of work. I had originally thought that with the plentiful food on display at these festivals that recipe ideas would start popping in my head left and right. But that never happened because I was too busy wolfing down all the delectable treats (LAUGHS!!!)
So I turned my attention to our neighbor up north Canada and to one of their delicacies "Poutine". Poutine is a dish that is made with french fries smothered in gravy and topped with cheese curds. I had always wanted to see how fries smothered in gravy taste like and this seemed to be as good a time to do so. The only problem was which Indian dish to use as the gravy and again the answer was clear as night and day. It was going to be the ever popular Butter Chicken and Voila the sumptuous Butter Chicken Fries were born.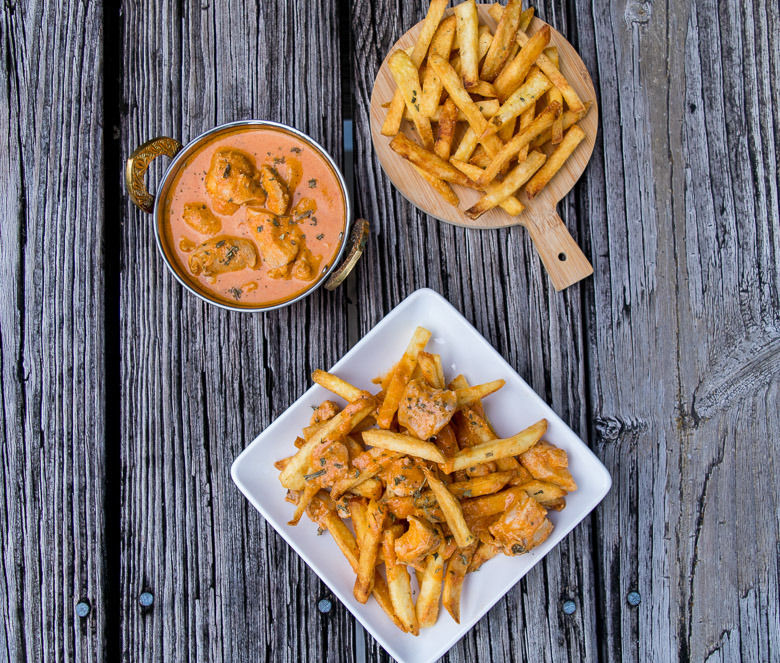 To begin with lets make the gravy first. I love to make the base of my curries by roasting onions and garlic and then grinding it to a fine paste which is exactly what I did. But this time I added almonds to the paste for a little nuttiness. Time for the delicious curry to begin. So start cooking the above made paste in a large saucepan and add the tomato puree to it. Now come all the dry spice powders which I consider the stars of this gravy along with the chicken. Finish up the curry with a splash of cream for that rich, creamy flavor and just let the chicken cook merrily in all its delicious glory. I touched up my curry with crushed fenugreek leaves for that extra special touch but this step is completely optional.
I was in one of those moods in which I wasn't going to buy french fries but make my own. The last time I made them they turned out to be a soggy mess so this time I decided to consult the experts i.e. food network website. I found a nice and easy recipe on their and followed it to a T and lo and behold I had crispy, golden brown fries.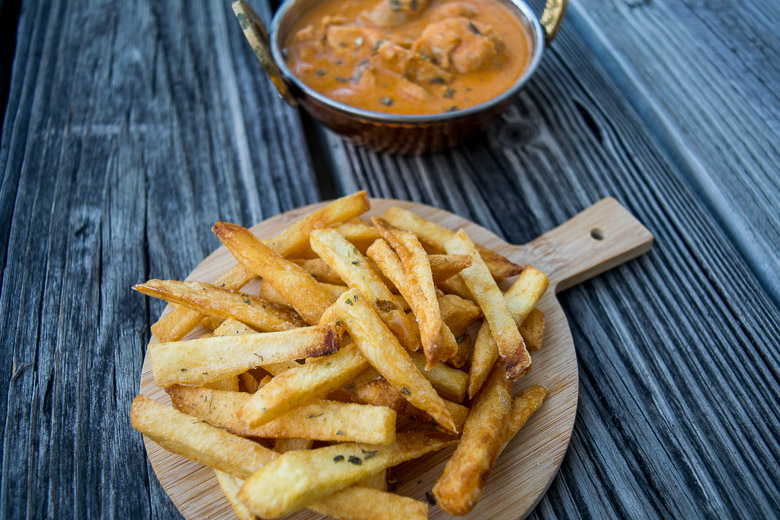 All that is left to do now is to make sure all the fries are coated with this deliciously rich gravy and eat and that is exactly what I plan on doing!!!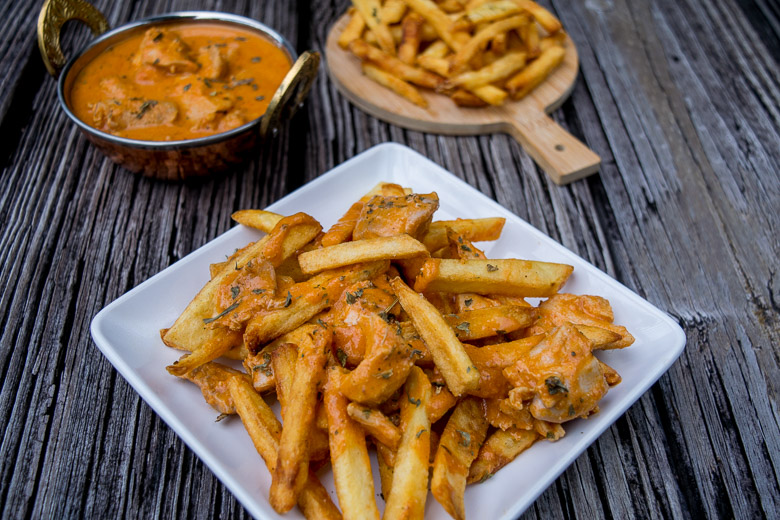 If you are on Facebook I would love it if you like my FACEBOOK page.

Butter Chicken Fries
Crispy french fries drenched in the rich, creamy deliciousness of butter chicken make this dish a foodie's delight!!
Ingredients
Butter Chicken
1 lb Chicken Thighs
2 tbsp Butter
1 medium Onion
4 Garlic Cloves
¼ cup Almonds
1 cup Heavy Cream
2 cups Tomato Puree
1 tsp Garam Masala
½ tsp Cumin Powder
½ tsp Red Chili Powder
1 ½ tsp Fenugreek Leaves
Salt as per taste
French Fries
3 Russet Potatoes
Oil for frying
Salt as per taste
Instructions
Butter Chicken
Cut the chicken thighs into small pieces.
Heat butter in a pan, add garlic and cook till the raw smell vanishes. Then add the onions and sauté till golden. Keep aside to cool.
Transfer it in a food processor, add almonds, a little water and make a fine paste.
In a large pot melt butter over medium heat, add onion paste, tomato puree and stir well. Cook for 5 to 7 minutes.
Toss in the dry spices: cumin powder, garam masala, red chili powder and mix well.
Once it starts to bubble add heavy cream, chicken and stir well. Simmer for 20 min, stirring occasionally. Cook until chicken is tender and liquid is reduced.
Add crushed fenugreek leaves. Season with salt.
French Fries
Peel potatoes. Cut them into fries. Soak them in water for 2 hours.
Drain off the water and dry them with a paper towel.
Heat oil on a high heat, cook the potatoes in batches until soft just for a minute to start the cooking process. Drain on a paper towel.
Start frying the potatoes again in batches and cook until they are golden and crisp.
Remove the fries on a paper towel and sprinkle salt.
Assembly
Place some French fries in a serving plate. Top with butter chicken and dig in.
Please follow and like us: