It has been an unexpectedly fun weekend this one!!! Friday night was spent with new friends which we met at a disastrously boring party and Saturday came and went with old friends hanging out at our place. As expected the common denominator was food. I mean lots and lots of it. The theme this week was expecting the unexpected and in the same vein I hit upon this totally unique idea of modifying the most iconic snack the BATATA VADA (Potato Fritters) into a BROCCOLI BATATA VADA (Broccoli Potato Fritters).
I do not think I am wrong in saying that in my home city of Mumbai street food plays a very important role in the day to day life of Mumbaikars (as the people are locally called). Roaming around in Mumbai it feels as if a street food vendor can be found in pretty much every street. Growing up every person seems to have his or her special memory as relates to street food. It may be going to the beach as a kid with your parents and enjoying pani-puri or a plate full of spicy bhel. Or sitting with your college friends at a roadside stall enjoying the piping hot Pav Bhaji.
If I start rambling about these memories then there will be no end in sight so I wont digress too much. One distinguishing characteristic of the street food scene in Mumbai is the sheer variety of items that are available for selection. There is obviously the pani-puri, bhel and the pavbhaji that I have already mentioned. Then you have the chaats.. All I can say is no words are going to be able to describe the deliciousness of this dish appropriately. There is the Samosa which yours truly is found off. And then there is the iconic BATATA VADA which is basically a spicy potato mixture dipped in a gram flour mixture and deep-fried to perfection.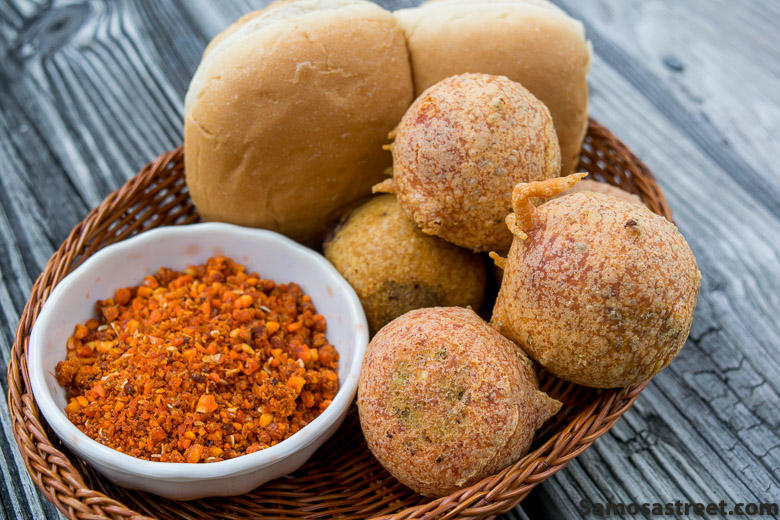 Over the years the street food has evolved a lot so how can this Mumbai favorite be left behind. And more importantly how can crazy people like me be left behind. So on what turned out to be the perfect evening to enjoy these deep-fried goodies it was a spur of the moment inspiration which led me to add broccoli into my spicy potato mixture and come up with these crispy, delectable BROCCOLI BATATA VADA.
To be honest my craziness did not stop there because I turned the traditional Batata Vada recipe upside down. Initially things were normal because I started sautéing the ginger-garlic paste and the green chillies. After about a minute or so in went the boiled potatoes. This is the point where things took a turn because I added a little coriander powder, black salt, garam masala and a heaping helping of cheese. So the traditional batata vada recipe pretty much had gone flying out of the window. Once the flavors had come together I allowed the mixture to cool down enough for me to handle it.
As for the batter then I kept it nice and simple. It was just gram flour, turmeric, chili powder and a pinch of baking soda. After the batter was ready it was just a matter of frying it to crispy, delicious perfection which didn't take too much time. These goodies can either be eaten on their own or as a burger in between two pieces of bread with toppings of your choice.
All that was needed for me now was to put my feet up on the patio with a book in one hand and steaming hot batata vedas in the other. Ahh the simple joys of life which I intend to enjoy to the fullest…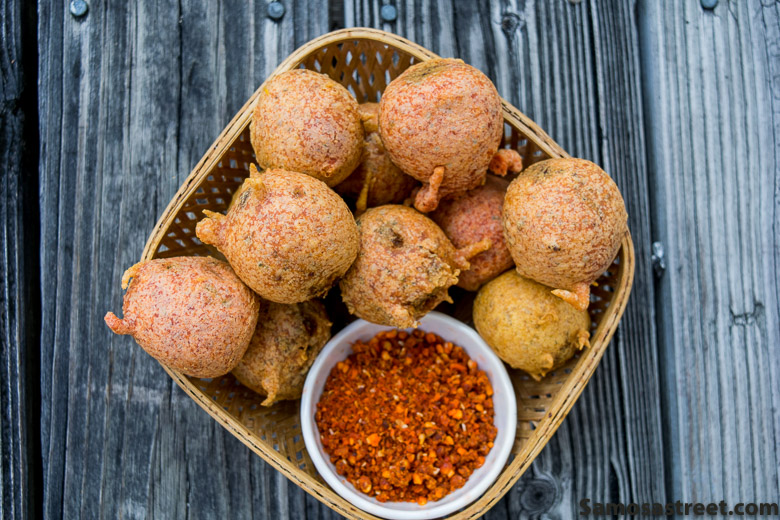 If you are on Facebook I would love it if you like my FACEBOOK page.

BROCCOLI BATATA VADA
The iconic BATATA VADA with a one of a kind twist i.e. with shredded broccoli & cheese. Next thing you know the kiddos will be lovingly eating broccoli!!!!
Ingredients
Filling:
1 cup Potatoes (boiled & mashed)
2 cups Broccoli (pulsed)
1 cup Feta Cheese (Or Any one of your choice)
2 tsp Ginger Garlic Paste
1 small Green Chili (chopped)
Pinch Asafoetida
¼ tsp Turmeric powder
1½ tsp Garam Masala
2 tsp Coriander Powder
½ tsp Black Salt (Optional)
2 tbsp Lemon juice
Salt: To taste
Oil for deep frying
Batter:
1¼ cups Coarse gram flour (besan)
½ tsp Red chill powder
½ tsp Turmeric powder
½ tsp Baking Soda
Salt: to taste
Water as needed
Instructions
Filling
Break down the broccoli into individual florets and pulse them in a food processor till you get granules.
Heat one tbsp oil in a pan, add asafoetida, turmeric powder, coriander powder, green chilli, ginger- garlic paste and saute.
Add pulsed broccoli and cook for few minutes. Add potatoes, feta cheese, lemon juice, black salt, salt and mix. Set aside to cool.
Batter
Place the gram flour in a bowl. Add salt, red chilli powder, turmeric powder, baking soda and mix. Add sufficient water to a smooth and thick batter. Set aside for at least 15 minutes.
Frying
Divide the broccoli, potato mixture into eight equal portions and shape them into balls.
Heat sufficient oil in a big frying pan. Dip the balls gently in the batter and deep fry till golden brown on the outside.
Drain on absorbent paper.
Serve immediately.
Please follow and like us: