After a prolonged winter the past few weeks or so have felt as if summer is well and truly here. What that meant for us was going out and exploring the natural beauty Birmingham has to offer. The first couple of times we got by with a light breakfast but quickly realized that it wasn't going to work since we were absolutely exhausted by the time we got home. A good, hearty breakfast was the need of the hour which meant fried eggs!!!! Nah.. not just any fried eggs but fried eggs served on top of chunky veggies coated in a a rich tomato gravy. Something I like to call "Breakfast Skillet Eggs".
One of the things that Maddy and I absolutely love is a good hike. Nothing beats taking a long walk in the lap of mother nature!!!! That is exactly what we have been doing the past few weekends. The number of state parks that are within a 30 minute driving distance from Birmingham is absolutely astonishing. It feels like we can go a solid two months before repeating a hike in the same park.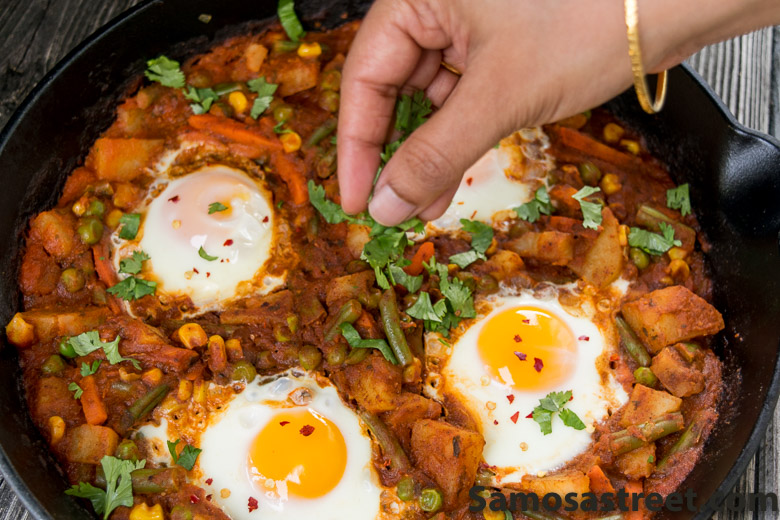 To me my plan of hiking every weekend was just perfect. The plan was to wake up early in the mornings (i.e.7am), take a light breakfast and go hike in a state park. This would allow us to beat the intense afternoon heat. However even the best laid plans eventually face a curveball of some sort. In our case we did not account for the intense heat even early in the mornings…
The quick and easy solution to our predicament was for the light breakfast to change to a filling, and hearty breakfast for the extra jolt of energy. However time was of the essence since I wasn't in the mood to get up at 5 am on a Saturday morning to cook up an elaborate recipe (LAUGHS!!!).
The answer to that agonizingly difficult question is a one-pot meal or as I like to call it a one skillet breakfast. I wanted an egg recipe this time and for this one I took inspiration from the popular Jewish dish "Shakshouka" which is basically eggs cooked in a richly luscious tomato sauce. But y'all know I am definitely going to put my own spin on that sauce and that starts with….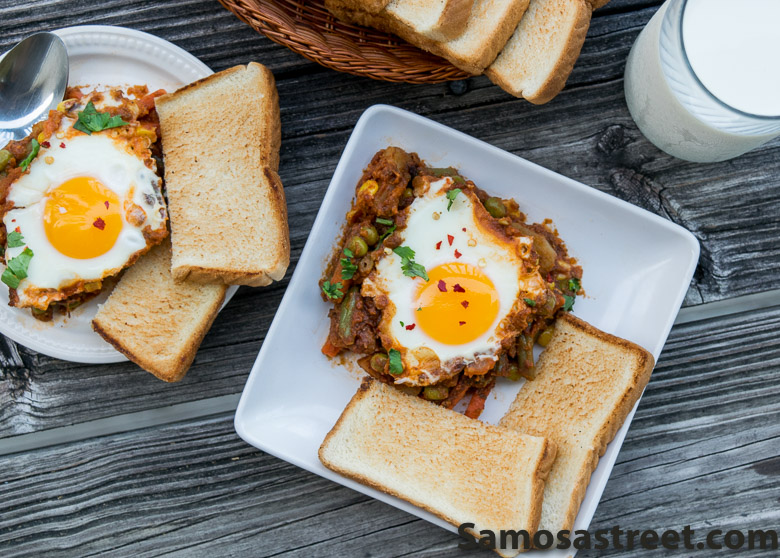 My favorite ingredient i.e. roasted onion puree!!! Ohh how I love me some of that puree… Once that is cooking I added tomato puree for a little tang. After which went in the spices like fenugreek leaves, coriander and chili powder and the piece de resistance "garam masala".
The sauce is now simmering away nicely and is eagerly awaiting the veggies to be put in and I am in no mood to delay it further. So the veggies go in and within minutes are coated in complete deliciousness. All that is needed now is the cherry on top which are the eggs. At this point y'all can add beaten eggs to it and scramble them in the tomato sauce or do what I did which is to create holes in the gravy and fry the eggs. The hope is to cook the eggs long enough for the whites to be cooked and the yolks to be slightly runny which isn't as easy as it sounds. I am estimating it may take about 6-8 minutes on low heat.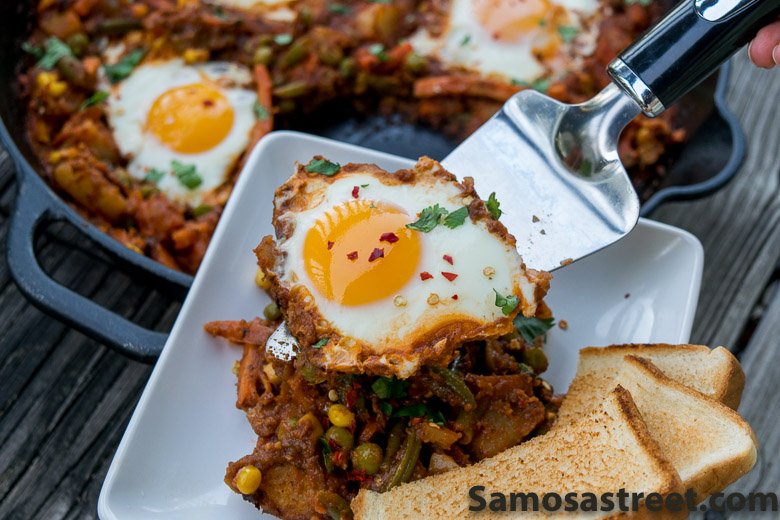 What makes this dish is the spoon cutting through the eggs and the runny yolk finding its way to all the nooks and crannies of the sauce on the plate. I think there is still something missing.. Don't y'all!! Ahh I get it. It is a toasted bread to soak up all the spicy goodness. After eating a big breakfast like this wifey dear and I are off to another hike!!! Heck we are feeling so charged up we may even do two hikes!!!
If you are on Facebook I would love it if you like my FACEBOOK page.

Skillet Breakfast Eggs
A richly spiced mixed vegetable stew topped with a fried eggs with a toasted bread to soak up the delectable goodness... What's not to love????
Ingredients
2 cup mixed frozen veggies (your choice)
1 medium Onion (chopped)
2 Garlic cloves
1 cup Tomato Puree
2½ tsp Kasuri methi/Fenugreek Leaves
2 tsp Coriander Powder
1½ tsp Red Chili Powder
1 tsp Garam Masala
4 Eggs
Cilantro
Salt
Instructions
Heat oil in a cast-iron skillet over medium heat. Add garlic and saute until fragrant.
Add the chopped onions and sauté for few minutes until translucent and soft. Let it cool. Blend into a fine paste using a little water.
Heat oil in a skillet. Add the above mentioned paste and cook for a minute. Mix in the tomato puree and stir for 3-4 minutes.
Sprinkle in coriander powder, kauri methi, red chili powder, garam masala and mix well. Cook for couple of minutes.
Add frozen veggies. Simmer until tomatoes have thickened, about 10 minutes. Season with salt
Using a wooden spoon, make 4 wells in the tomato mixture (make sure the wells are spaced out). Gently crack an egg into each well. Season eggs with salt and red pepper.
Reduce the heat, cover the skillet, and cook on low until the egg whites are barely set; about 7 minutes. Sprinkle with cilantro.
Grab a plate and scoop an egg plus the surrounding tomato vegetable sauce into and dig in with a toasted bread
Please follow and like us: