Spicy and Sour Bitter Melon Fries. A truly unique snack which just might be the perfect companion to your late afternoon cup of tea.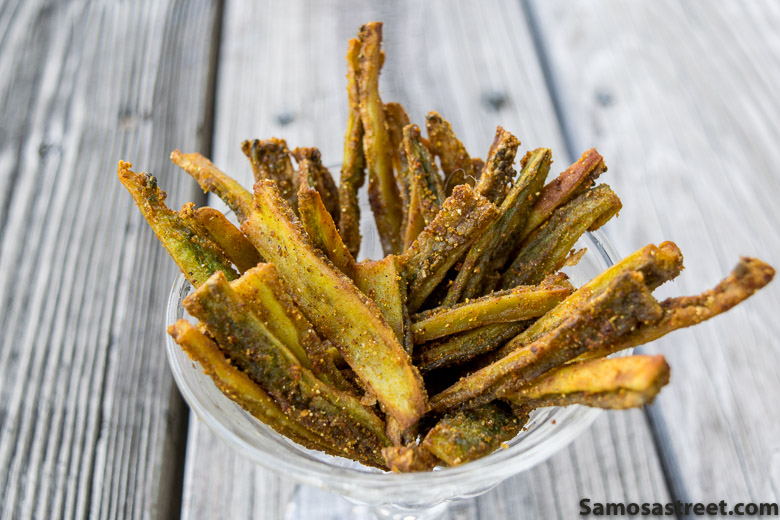 The festival of Rakhi is tomorrow and the celebrations are in full swing. So as you would expect, the presence of sweets in every household is not unusual. I was going to go along with the flow and make a dessert for this blog post. How I ended up with these slightly acerbic but mouthwateringly tasty BITTER MELON FRIES is anybody's guess. As for me, I am not complaining since they turned out to be the perfect accompaniment to my cup of JOE on this rainy Sunday..
I think the bond between a brother and sister is one of a kind in this world. And to my knowledge there is no festival in this world which celebrates this beautiful relationship than this one called as Rakhi or Rakshabandhan as it is usually called. Rakhi is the ceremonial thread which a sister ties on her brother's wrist and in return the brother promises to love and protect her as long as he shall live. Just like any other Indian festival a lot of sweets get eaten on this day too.
Keeping up with the spirit of Rakhi my plan was to make desserts i.e. ice-cream for this week's post. The problem was I was going to have a go at it without the ice-cream maker which got lost at the time of our move from Dallas to Birmingham. I am not going to blabber on about my attempts at making ice-cream and bore you to death (LAUGHS!!!). SO to give you the abbreviated version I took two shots at making it and both were waaaayyy off the mark.
This was the moment when I gave up all hopes of even posting a recipe for this week which is something I absolutely hate to do. But there is always one person in this world who will come to your rescue every single time and that special person is your MOM. I had just begun talking with her on Skype   and the first thing that comes out of her mouth is this amazingly unique recipe made with WAIT FOR IT!! WAIT FOR IT!!!! BITTER MELON. Now I can hear all of your oohs and aahs and groans as soon as I said the word bitter melon. But please bear with me on this one.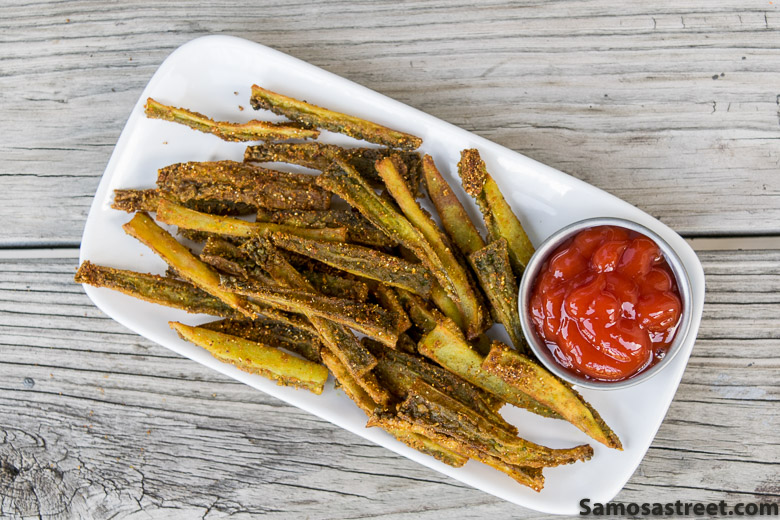 There isn't any ingredient in the world which won't taste great if it is cooked the right way and Bitter Melon is no exception. I learned this very early in my childhood when I ate a delicious, 15minute bitter melon stir fry that my mom used to make. The trick was to add sugar to balance out the tartness of the melon.
This recipe calls for reducing the sour taste of the melon by sweating out the water with a little bit of salt. Then all that is left is to squeeze out all the water and most of the bitter taste gets washed away since the seeds have been taken out well before.
Now all that is left is to add a few spices to add extra flavor and cornflour for extra crispiness. For the spices my choices were turmeric, chili powder for a little heat, black salt, chaat masala for a little tang and cumin because it just goes well with the chaat masala (CHUCKLES). These babies just take about a minute to fry and be ready.
I understand that y'all might still be apprehensive about trying them. But go ahead and work up the courage to taste it y'all because I am pretty positive y'all are going to like it. As for me all I can say is this; cool rains, hot tea and steaming hot fries. It doesn't get any better than this.
P.S: If y'all want to give me grief about posting a recipe with a bitter ingredient on such a sweet occasion then would love to hear it in the comments section below (LAUGHS!!!!!).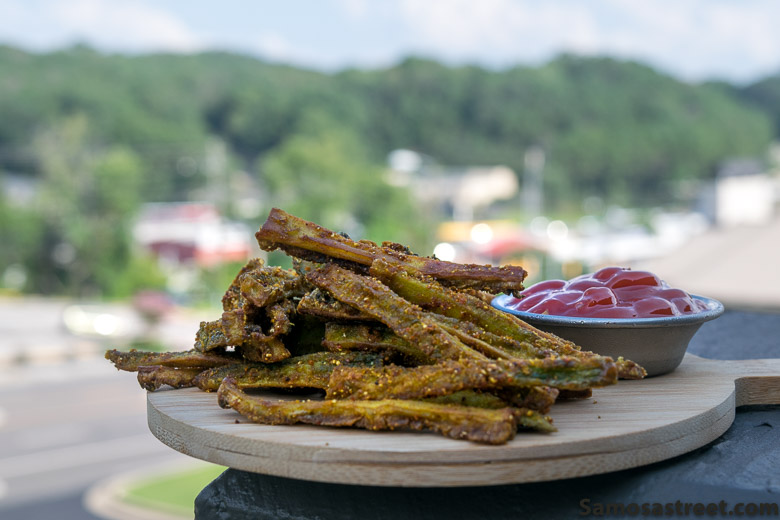 If you are on Facebook I would love it if you like my FACEBOOK page.
BITTER MELON FRIES
Spicy and Sour Bitter Melon Fries. A truly unique snack which just might be the perfect companion to your late afternoon cup of tea.
Ingredients
2 Bitter Melon
1 tbsp Corn Flour
¼ tsp Turmeric Powder
1 tsp Red Chili Powder
¾ tsp Black Salt
1 tsp Chaat masala
1 tsp Cumin Powder
Oil for frying
Instructions
Trim the ends, scrap off the skin and de-seed the bitter melon. Cut into long slices.
Sprinkle salt, mix well and keep aside for 30 minutes. Wash with water and pat them dry. This will remove the bitterness.
Sprinkle red chili powder, turmeric powder, cumin powder, corn flour, chaat masala, black salt and toss well to coat.
Heat oil over medium high heat. Fry in batches until crisp. Drain on an absorbent paper.
Serve hot with choice of sauce.
Please follow and like us: