Wish you all a Happy Diwali & a Prosperous New Year!!! All I can say is that the biggest party of the year in India begins this week and I couldn't be more excited. The only thing tempering my excitement is the fact that I am not in India at the moment surrounded by my loved ones. But to me food is the great equalizer and does bring back a host of fun memories. So on this auspicious day I decided to try and make a very popular snack which is also a personal favorite of yours truly; i.e. Besan Ladoos.
Besan means gram flour and Ladoo means a rolled ball the size of a pingpong ball. So this recipe simply stands for a rolled flour ball. But it is not just any flour ball. A lot of sugar, a touch of cardamom and a sprinkling of nuts make this a FREAKING DELICIOUS flour ball!!!! More importantly once this snack sinks its teeth into you its got you hooked for life. Its definitely that addictive. No wonder it forms an integral part of many big festivals in India, especially Diwali.
Diwali originally was celebrated to welcome Lord Ram back home after he won his battle against the evil Ravana. Over the years its popularity has soared to amazing heights and now it is celebrated all over the country with great vigor by people irrespective of their religion. Now this festival is nothing but an absolute blast and the best thing is that it goes on for five full days. Every one of the five days has its own significance but that will be a story for some other time. The only thing that ever mattered to me was that I got to celebrate with my loved ones and friends endless with a lot of food and fireworks (LAUGHS!!!).
Now living here in the US of A the fireworks are absolutely out of question. But the other two important aspects of this festival i.e. food and friends are still there. Cooking a typical Diwali menu requires a little bit of expertise which I absolutely do not have (LAUGHS!!!). So I have always depended on my mom to send me homemade stuff. But I decided the time had finally come for me to start making the food on my own. To begin with I decided to do these Besan Ladoos which are relatively easy to make compared to some of the other snacks.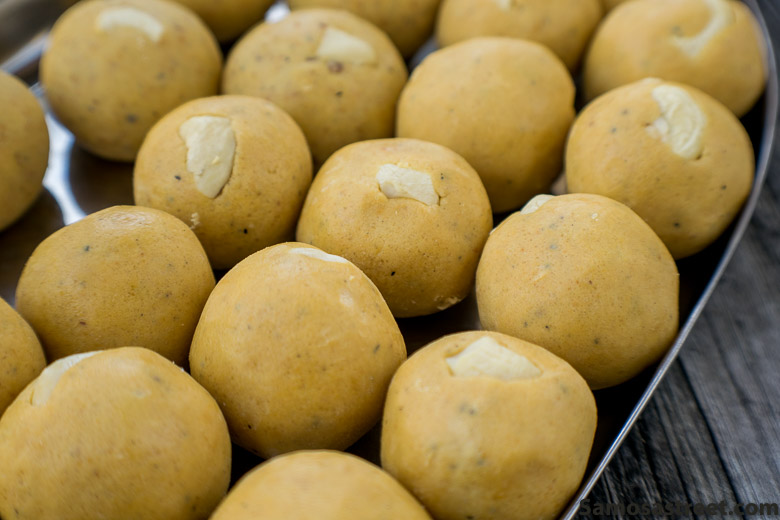 Although I said it is relatively easy it still took me multiple attempts to get this recipe right. That is because I had a hard time getting the amount of ghee (clarified butter) correct. It is this ingredient which acts as a binder and pretty much makes or breaks the recipe. To start with I roasted the besan in melted ghee which is another important part of this recipe. The thing to keep in mind here is to take care to not burn the flour. Also it is essential to constantly stir the flour and break up any lumps that may form. Otherwise we get huge lumps which are cooked on the outside and raw on the inside.
What I am looking for here is a golden brown color and a nutty fragrance to go along with it. The roasting process took me about 10-12 minutes. Once done transfer the flour in another bowl and let it cool down completely. Then mix in the powdered sugar along with the cardamom. All that is left to do is to roll the mixed dough. So take equally sized portions of the dough and roll and compact them with your hands to make these delectable bite sized goodies called Besan Ladoos.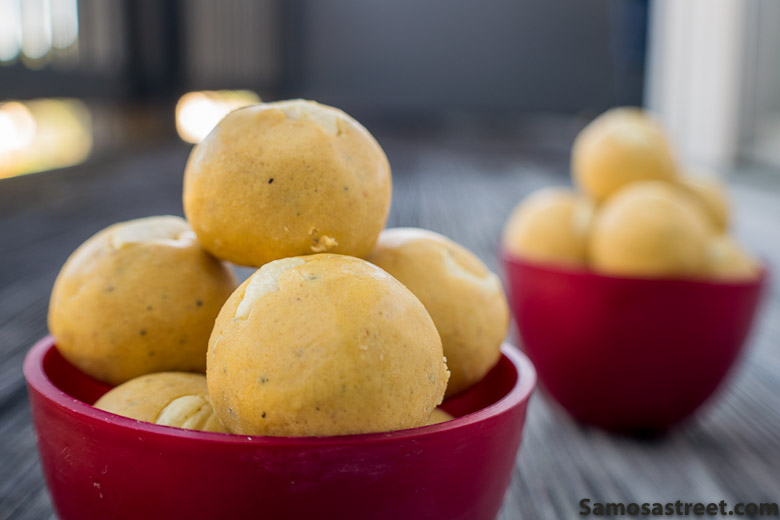 If you are on Facebook I would love it if you like my FACEBOOK page.

Besan Ladoos
Ghee roasted Gram flour/ Besan flavored with sugar and cardamom and shaped into bite-sized goodie balls topped with cashews. Perfect for any occasion.
Ingredients
1 cup Gram Flour/Besan
¼ cup Clarified Butter/Ghee
¾ cup Powdered Sugar
2 tsp Cardamom Powder
Instructions
Add besan to melted ghee in a deep pan and mix well. Cook on a low flame stirring continuously for 10-12 minutes taking care to break the lumps constantly. The besan starts changing color to brown and gives out a nice aroma Be careful and avoid burning the flour.
Once the color is shiny golden brown. Switch off the flame and transfer the mixture into a plate and keep aside till the mixture cools down completely.
Add powdered sugar, cardamom powder and combine well till it gets a crumbly texture.
Take a scoop of mixture and shape it into a round ladoo.
Garnish with cashew and store in an air-tight container.
Please follow and like us: