For quiet some time there was a crazy idea going on in my mind about a certain recipe but the problem was that I was hesitating to act on it. I am just the kind of person who sometimes needs that extra push or a kick in my rear end to act on things (LAUGHS!!!). Fortunately for me in this instance I got that kick pretty quickly from a show starring none other than my idol Gordon Ramsay. The end result was this lip-smackingly delectable "Besan Chilla Waffles". You hear that right people!!! I did say "Besan Chilla Waffles!!!!.
These days a waffle iron has become a very important tool in the kitchen. It is not just about making waffles these days because people have indeed found a lot of creative uses for this tiny piece of equipment. I for one have indeed enjoyed putting my waffle iron to make plenty of waffles. But doing the same thing over and over again kinda causes it to go stale after a while. After all the old cliche holds true that variety is indeed the spice of life.. ISN'T IT??
So it was definitely time for me to come up with a creative use for a waffle iron. After obsessing over it for a good two weeks I was still not sure that it would work. It was at this time that the legendary Gordon Ramsay and his show Masterchef came to my rescue. I didn't get to see how one of the contestant made the waffle recipe but just the sight of a pakora waffle was enough to give me confidence that the recipe could ultimately be successful.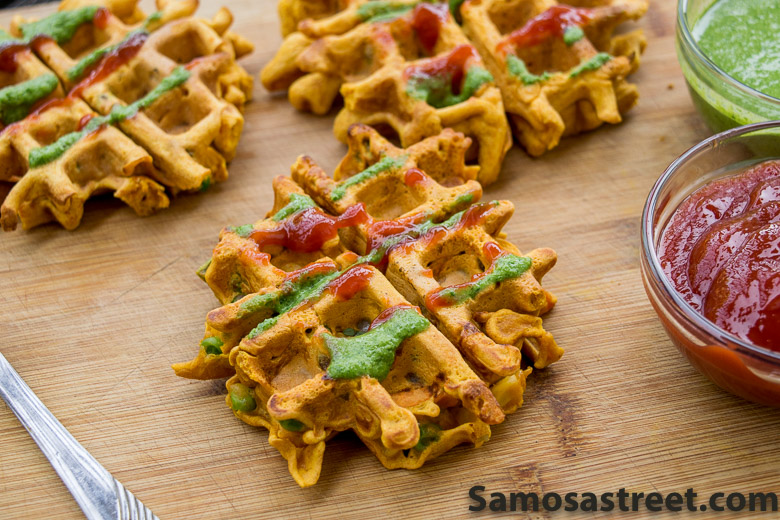 In India a fritter or a pakora as it is locally called is usually made with a spicy besan/gram flour batter. I was initially skeptical of using this batter since it usually results in a thick coating which might ultimately lead to a doughy waffle. My fears indeed came out to be true when I made my first batch. The waffles were just thick and very DRRRYYYYY!!!!. However I did find that increasing the quantity of the vegetables in the batter did help cut through the doughiness of the waffle and a chutney on top added the needed moisture…
In addition the gram flour needs to be aggressively seasoned so that the waffles get to occupy a prime location in flavor town (CHUCKLES!!!). So I used a variety of spices including chili powder, turmeric, ginger, garlic and a little bit of cumin..
Also how can I forget baking soda which is what makes the waffles crunchy on the outside. Since I am making a veggie pakora batter I have to add the veggies.. DUHH!!!!! Be sure to add a whole bunch of them though!!!
Finally all that is left to go in is the water. I decided to make a thick batter so I ended up adding about a cup and a half of water. Since the batter was thick I took a ladle full of batter and laid it into the center and let the waffle iron do its job. After about 2-3 minutes you have crunchy, hot of the iron waffles ready to eat. Top them with a coriander chutney like I did to mellow things down a bit and dig in….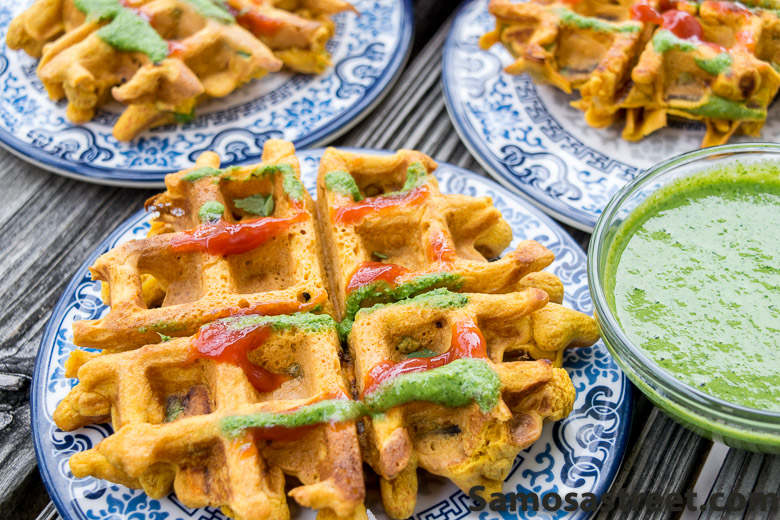 Other Breakfast Recipes you may Enjoy !!
If you are on Facebook I would love it if you Like my FACEBOOK page.
If you like this recipe don't forget to Pin it and follow us on PINTEREST.
Did you make this recipe? Share a photo on INSTAGRAM at #samosastreet.

Pakora Waffles
Who would have thought pakoras disguised as a waffle will taste so finger-lickingly good??? Well I for one did!!!!
Ingredients
2 cups Coarse gram flour (besan)
1 cup Mixed frozen veggies
½ Onion (sliced)
1½ tsp Red chill powder
1 tsp Turmeric powder
1 tsp Ginger Powder
1½ tsp Garlic Powder
1 tsp Cumin Powder
2½ tsp Baking Powder
Water as needed
Salt: to taste
Instructions
To make the batter mix the gram flour with the red chilli powder, turmeric powder,ginger powder, garlic powder, cumin powder and salt. Add sufficient water and whip to a smooth and thick batter.
Add the onions, mixed veggies and baking powder to it and Mix well. Set aside for at least 15 minutes.
Spoon a ladle full of the mixture onto the center of the waffle iron and let it cook for about 3-5 minutes on a high setting till golden brown on the outside..
Once cooked let the waffles sit for a couple of minutes top them with a chutney of your choice and then enjoy.
Please follow and like us: