I started talking about my chaat cravings in my last post and y'all know what I feel as if they are not satisfied. So y'all know what I am ready for more!!! More of the lick my fingers kind of street food that can only be found in the streets of Mumbai. More of the unique lip-smacking deliciousness that only this style of food can provide. When you add a touch of Mexican flair to the recipe then you are indeed transported to CHAAT HEAVEN. Which is exactly what this "Avocado Papdi Chaat" did for me.
When a chaat crazy person like me gets into chaat eating mode he basically gets stuck in neutral, i.e. he neither wants to go ahead nor back. If possible he would love to stay there for a while (LAUGHS!!!!). I mean c'mon why would anyone even want to give up this sumptuous feast which at least to me is fit for the kings (CHUCKLES!!!). Now that I am stuck in this rut (that's not a bad thing, mind you) it was time for the neurons in the brain to go into overdrive thinking about a new recipe.
But my wife beat me to the punch which I don't mind at all if she keeps coming up with crazy ideas for my brain to get inspired with. She had originally suggested a Masala Boondi recipe which basically means tiny fried gram flour balls rolled with a few basic spices. I just didn't fall in love with the recipe in the beginning simply because I thought it was too simple. So I decided to put my own spin on it by adding most likely everyone's favorite ingredient "Avocado" to it.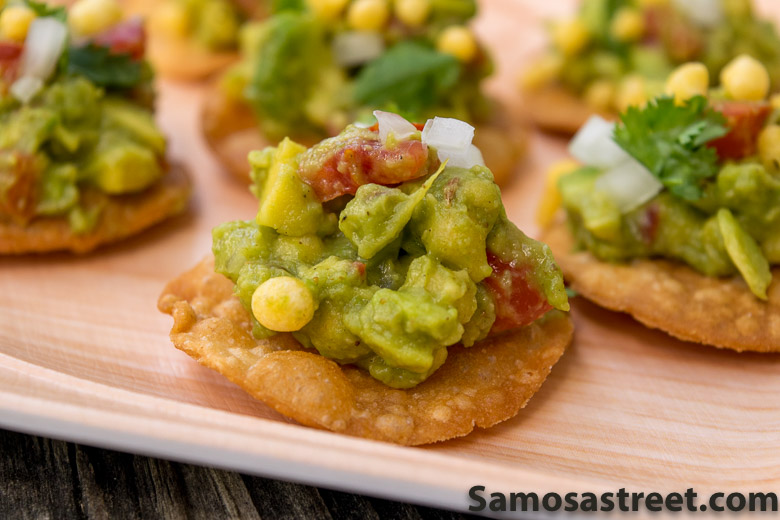 As to how the avocado turned into full-fledged guacamole I don't know. Which meant tomatoes, onions, cumin seeds, jalapenos, lemon juice and chaat masala all followed each other into the mashed avocados and the above mentioned boondi. The original plan for wifey and I was to eat this mixture as it is which by itself is indeed mouth-wateringly delectable.
But then I decided to add one final flourish to the dish by serving the avocado boondi mixture on a crispy fried puri instead. The puri recipe is the same as I have previously made and can be found HERE. Now that's what I call signing off with a bang!!! Ahh on second thoughts I think I am going to start wolfing down these bite-sized goodies right now???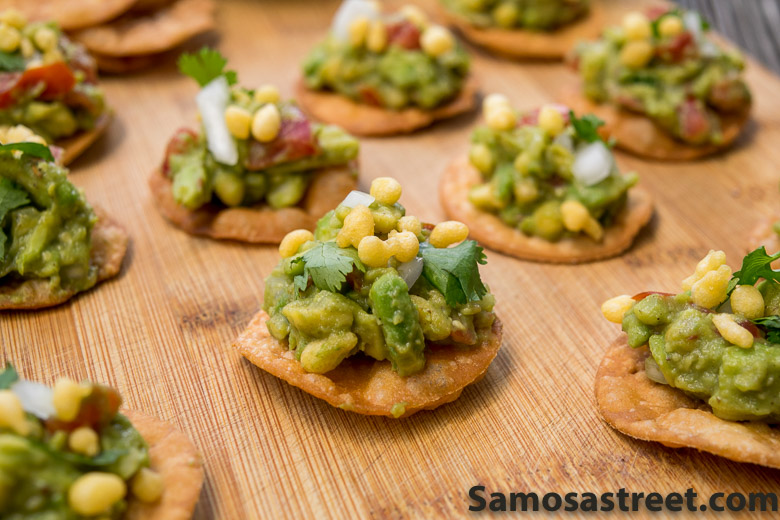 Other Chaat Recipes you may Enjoy !!
If you are on Facebook I would love it if you Like my FACEBOOK page.
If you like this recipe don't forget to Pin it and follow us on PINTEREST.
Did you make this recipe? Share a photo on INSTAGRAM at #samosastreet.

Avocado Papdi Chaat
Who doesn't love a crispy fried bread topped with a tangy, creamy avocado mixture?
Ingredients
Puri
¼ cup Rice Flour
¼ cup Whole Wheat Flour
¼ cup All purpose flour
5 tbsp Water
Salt
Oil for deep frying
Topping
3 Avocados (mashed)
1 Tomato (diced)
¼ cup Onion (diced)
¼ Jalapeño (diced)
3 tsp Lemon Juice
½ tsp Cumin Seeds (roasted)
¼ cup Boondi (Store-Bought)
½ tsp Chat Masala
Salt to taste
Instructions
Puri
Combine rice flour, wheat flour, all purpose flour and salt. Add water little at a time and mix. Knead slowly to form a semi stiff dough. Divide the dough in equal parts.
On a floured surface roll the dough in a thin circle with a rolling pin.
With a cutter, cut out circles in the dough. Remove the extra dough and add it to the unused dough. Prick each puri with a fork.
Gently slide 3 to 4 puris into the hot oil and fry till golden brown on both sides.
Drain on absorbent paper. Repeat with the remaining dough.
Topping
In a large bowl mix all the ingredients mentioned in the above list except boondi and keep it in a refrigerator for an hour or overnight which would be better. Add boondi just before serving and mix.
Assembly
Fill a plate with puris. Top it with the avocado mixture.
Pop in your mouth immediately.
Enjoy.
Please follow and like us: